CBZT Series Marine explosion-proof axial flow fan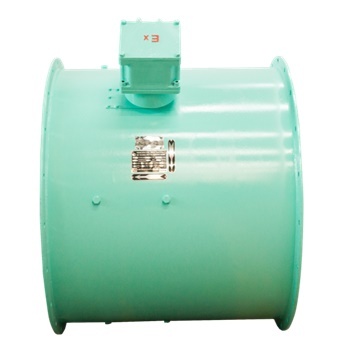 CBZT Marine Explosion-proof Axial Fan


1. General
CBZT series explosion-proof axial flow fans for marine use are designed and manufactured according to GB11800《Marine Explosion-Proof Axial Flow Fans》and general description and explosion-proof electrical equipment "d" of GB3836-2000《Electrical apparatus for explosive atmospheres》and 《The manufacture Rules of Sea-going Steel Ships》.
This series fans have been examined and approved by the Explosion-proof Inspection Authority of the PRC and have got the Certificate of Conformity. They also have been examined and approved by CCS (China Classification society) and have got the certificate.

2. Features
Explosion-proof function、safe and reliable in operation.
Well anticorrosive.
Good performance of resisting vacillation, vibration and shocking.

3. Structural
There are three structural types: type I (deck type), type II (piping type) and type III (separate cabins type). The structure of whole set is spark free.
Type I explosion-proof fan has a hood and an explosion-proof motor installed in the top of the machine frame and a wire mesh guard with 4 openings per square cm. Made of stainless steel, surrounding the frame. The fan is vertically fixed on the deck. It can be delivered for air supply of air extraction.
Type II explosion-proof fan has no hood, built-in type explosion-proof motor is mounted on the housing by the down stream guide vane. It can be installed vertically or horizontally, and can also be installed on the deck. It may be used for pumping or sending air.
According to the customers' special requests, the fan can be made into a separate structure-- type III. The fan and the motor are put in different cabins, with a driving device, a sealed box and two pairs of flexible couplings. It is used primarily for drawing out noxious air of dangerous compartment. Taking a front view from the motor side, the impeller should be turning clockwise.




REMARK:Please contact us and get detailed specifications and offer.




We could produce the marine axial fan according to customer's detailed requirement,welcome to contact us!